Mark Lehain - Building a Knowledge Rich Curriculum
Mark Lehain - Building a Knowledge Rich Curriculum
20 June 2019 (by admin)
This fully funded event will take place on the morning of Tuesday 25th June 2019 at The Edge, Wigan, WN3 5AB at 9.00am to 11.00am.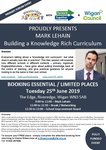 Westbridge Teaching School Alliances proudly presents: Mark Lehain - Building a Knowledge Rich Curriculum. Key note topics will include: - an introduction towards a deeper understanding of a knowledge-rich curriculum, giving practical guidance for anyone looking to do the same in their own school.
To secure your place - simply complete the attached booking form and return it to Alaina Shawcross at A.Shawcross@cfat.org.uk. For more information please speak with a member from either Westbridge or Forward Together Teaching Schools.