Impact of COVID-19 on applicants
Impact of COVID-19 on applicants
8 April 2020 (by admin)
You can still apply to start teacher training in September 2020. We've put together an FAQ to help you understand how Covid-19 might affect the application process: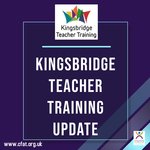 Impact of COVID-19 on September 2020 SCITT Applicants
Q. What if I cannot attend school experience prior to interview?
A. Prior experience in a school is not required prior to interview, but if you have been able to gain experience in schools, providers might find reports from those schools helpful.
Q. What courses are available for September 2020?
A. click here to review our 2020 programmes
Q. Does the 40-day rule for making decisions about ITT applications still apply?
A. All rolling UCAS Teacher Training decision making deadlines are on hold for at least four weeks.
Q. Do I have to have a face-to-face interview?
A. There is no requirement for a face-to-face interview. These can take place electronically, ideally by Skype or similar. Documentation such as degree and GCSE certificates may be scanned and sent electronically. We are currently undertaking interviews via Microsoft Teams, Skype, Facetime and WhatsApp call.
Q. Can I start my ITT course before I have been awarded my degree?
A. The DfE will provide further guidance regarding this potential option as soon as possible.
Q: I'm expecting to get a bursary/scholarship/student finance for my course starting in September. Will this still be available?
Yes. The information in the Funding My Training section of the website remains valid.
Q. What if I have been unable to complete my Subject Knowledge Enhancement (SKE) course?
A. SKE training courses can be completed before or alongside ITT. If you have been unable to complete a SKE course, the SKE provider will make an assessment and communicate this to your ITT provider. If necessary, you can defer your SKE course and complete this alongside your ITT course at a later date.
Q. Are the planned Train to Teach events going ahead?
A. As a consequence of the outbreak of coronavirus (COVID-19) and following the announcement to introduce social distancing and limit all non-essential contact, we have made the decision to cancel all upcoming face to face Train to Teach events. We apologise for any inconvenience.
For details of online events visit our online events page. We are working to add more soon
For more information about the government response to coronavirus (COVID-19), please visit GOV.UK.
If you have another question, not covered here, please get in touch.
We have been working closely across government to develop guidance on COVID-19 and its impact on Initial Teacher Training, and the amended ITT criteria.
Share this: