Covid-19 Apprenticeship End Point Assessment update
Covid-19 Apprenticeship End Point Assessment update
23 April 2020 (by admin)
We are still undertaking Teacher End Point Assessments (EPA's)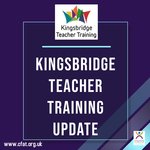 Following Covid-19 temporary discretion has been agreed until further notice, the institute for apprenticeships have announced that the lesson observation element of the EPA can be awarded based on assessment of observations during consideration of QTS award.
The supplementary elements of the EPA can go ahead as normal, albeit virtually.
EPA interviews will therefore, take place via Skype or Microsoft Teams at mutually convenient dates.
To arrnage an EPA please contact kingsbridge@cfat.org.uk
Every Lesson Shapes a Life with Kingsbridge Teacher Training